Devon parking enforcement loses £600k a year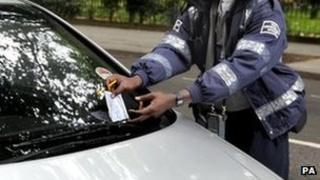 Parking enforcement in Devon has been losing about £600,000 a year for the past four years, according to a report.
The county council has now ordered an independent review of the service which was taken over from police in 2008.
More than 50 full-time parking wardens, or civil parking enforcement officers, hand out about 50,000 tickets every year in Devon.
Liberal Democrat councillor Gordon Hook called the losses "appalling" and "unsustainable".
Conservative-controlled Devon County Council has been working with the county's eight district councils on parking enforcement since May 2008 when the job was handed over.
The aim was to allow the police to focus on tackling more serious crimes.
The enforcement service lost £918,000 in 2008-9 and and £659,000 in 2009-10 said the county council in a report.
Mr Hook, chairman of the Place Scrutiny Committee considering a report into the losses , said: "It's not acceptable, it's absolutely appalling.
"If Devon County Council and the district councils were run as businesses they would have been in the bankruptcy court years ago."
He accepted the service did not need to make a profit.
"But it does need to adjust its management structure and bring a sense of business urgency to this operation," he said.
"It is totally unsustainable and unrealistic to ask taxpayers to come up with this kind of money."
At the moment, each district council in Devon has its own team of parking enforcement officers handing out tickets and the report to the committee suggests that amalgamating the service could save money.
The idea was suggested in 2009 but no changes were made.
A Devon County Council spokesman said: "The county council has agreed that an independent review of the parking enforcement service should be carried out.
"This is an opportunity to obtain an external perspective of the service, following which we will look at the recommendations to see how further cost savings, efficiencies and better integration of the service across the county can be achieved.
"One of the outcomes will be to establish whether and how the service might become self-financing in the future."