Plymouth University robot footballers bid for success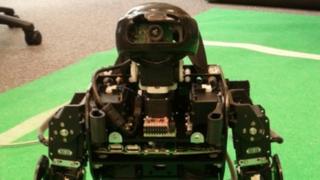 All eyes may be on the England football team as they battle for Euro 2012 success, but a more mechanical squad from Devon is also bidding for glory.
Some of the best robot "footballers" in the world will be in Mexico City later this month for RoboCup.
Bolts, Nuts, Sparksy and Gripper the goalie are among the England team, taking on the might of Germany, China, Japan, Mexico and Iran.
Peter Gibbons, from the Centre for Robotics and Neural Systems at Plymouth University, is one of those heading out with the team of "robotic Rooneys".
He said: "It's very difficult to see how successful we will be. We're aiming for a top 10 so the higher the better."
On the face of it the tournament may sound like a bit of fun, but the team from Plymouth University is taking the challenge seriously.
'Go to penalties'
Mr Gibbons said: "In the humanoid sense we've been developing this for five years.
"We are very excited. We're working long hours, from eight in the morning until 10 at night, to get the team ready."
In the competition, two robotic teams of three will play 15 minutes each way.
"Organisers of the event are wanting to go to five-a-side eventually, but you need a subbing team if one breaks," Mr Gibbons said.
"The matches can go to penalties and extra time."
The week-long tournament at the International Exhibition and Convention Centre at the World Trade Centre in Mexico will start on Monday.
The event is made up of different leagues with robots of different shapes and sizes taking part.
The team from Plymouth will be in the "child-sized humanoid" tournament.
Mr Gibbons said: "We are the first UK team to enter in the humanoid league.
"The kid-sized robots tournament is the most popular in the event, as the larger the robots the more expensive they get. Twenty-four teams are taking part from all over the world."
Dr Phil Culverhouse, from the university's School of Computing and Mathematics, said the humanoid robots were very engaging and could show the public that engineering was fun.
"I think the issue we are trying to address is the short-fall of interest in engineering subjects amongst schoolchildren... and to encourage our students to become toy-makers as this is a huge market and a growing one."