St Austell brewery fined over pub asbestos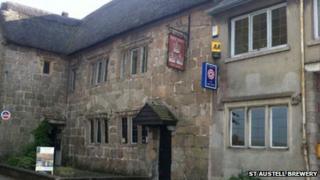 A Cornish brewery has been fined after workmen refurbishing a Dartmoor pub were exposed to asbestos.
The incident happened at the Three Crowns pub in Chagford, Devon, in January 2010.
The asbestos was discovered when the workmen were demolishing walls, but they were ordered to remove it without adequate protection.
St Austell Brewery was fined £5,000 by Exeter magistrates for breaching Control of Asbestos Regulations .
Building contractor Cowley's Building and Maintenance Ltd of Colyton, Devon, and its director Christopher Reed were also prosecuted.
Dangers 'well known'
In total the three defendants, who all pleaded guilty, were ordered to pay a total of £34,590, including court costs.
The case was brought by the Health and Safety Executive.
It said working on or near damaged asbestos-containing materials, or breathing in high levels of asbestos fibres, could increase the chance of contracting an asbestos-related disease.
HSE inspector Barry Trudgian said: "Asbestos can cause fatal lung disease and the dangers are well known in the industry.
"On average 20 tradesman die every week from asbestos related diseases."
The refurbished Three Crowns is due to reopen later this month.
In a statement, a St Austell Brewery spokesperson said: "This is the first conviction ever upheld against St Austell Brewery and the directors and management deeply regret that this charge had cause to be made."