Exmoor pony branding should end: Vet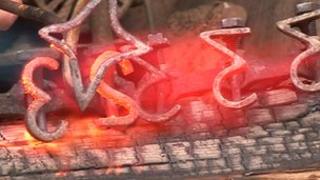 A vet from Cornwall is calling for the multiple hot branding of Exmoor Ponies to be banned.
Miriam Geraghty, from Bodmin, says the practice causes painful third degree burns that last up to a week.
Branding is banned in Northern Ireland and Scotland as well as Sweden, Denmark and Holland.
The Exmoor Pony Society has defended the practice, saying branding is needed as a visual identification for wild ponies who live on the moor.
Exmoor ponies living wild on the moors are branded with up to seven digits.
However, many welfare groups, including the RSPCA, British Equine Veterinary Association, the British Horse Society and World Horse Welfare say it is painful and unacceptable and should be stopped.
They are concerned that many "domestic" Exmoor ponies are still being branded, when they do not need to be.
Campaigners claim the ponies do not need visual identification because they are not living wild on the moor and believe this could be contravening the Mutilations (Permitted Procedures).
Skin lesions
According to the Exmoor Pony Society, branding has been carried out on Exmoor ponies since the 19th Century.
The ponies are branded with the Exmoor star, a herd number on its shoulder and the pony's individual number on the hind quarter.
Branding is done using hot irons with up to seven digits.
Ms Geraghty wrote a research paper as part of the Scottish consultation, which led to the banning of the practice.
She said: "Each brand put on to a pony or horse causes skin lesions that last up to seven days, which is the same as third degree human burns. This is obviously, without doubt, very painful."
Exmoor Pony breeder Dawn Westcott said: "The brands are held on the ponies for up to four seconds. The first time you go in it's unpleasant. The second time the pony knows what's coming. The third time you go in it's torture."
The Exmoor Pony Society declined to be interviewed by BBC News but in a statement said that "the star should now be dropped as the two remaining brands are sufficient to identify the pony."
The society also said it was "considering the introduction of a new system that would identify the pony in a single brand."