Uprooted tree crashes on to Plymouth house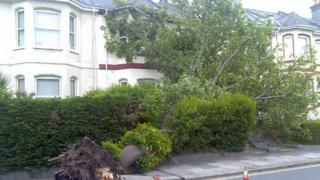 People living in a house in Plymouth had a narrow escape when a tree was brought down by high winds.
Devon and Cornwall Police said the tree was uprooted just before 08:00 BST in Wilton Street, Stoke, and the alarm raised by the occupants.
A police spokesman said no-one in the house was injured, but a window was broken and railings damaged. There are also concerns about a nearby tree.
Plymouth City Council said its highways officials had dealt with the matter.
A council spokesperson said: "Teams from Plymouth Transport and Highways have made the tree and the surrounding area safe.
"It will be removed on Monday when engineers are available to advise on the services running below."
Meanwhile, police said there have been several reports of fallen trees and some power lines down.