Stoke Canon celebrates running village pub for a year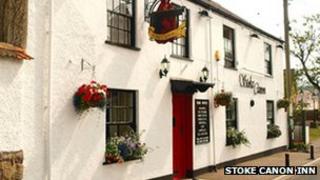 Residents of a Devon village are celebrating after the first year of running the local pub as a community venture.
The 19th Century Stoke Canon Inn, near Exeter, had been closed for 18 months before residents decided to take it on themselves.
They raised more than £10,000 to bring the pub back to life.
Pub chairman Maggy Clark said: "It's been fantastic, but a real rollercoaster ride".
The pub was reopened by volunteers on 17 June last year after 100 of Stoke Canon's residents bought a combination of shares and debentures to get the pub started again.
Ms Clark said none of the volunteers had had any experience of running a pub and "didn't expect it to be quite so complicated."
Other than a bar co-ordinator the pub has no paid employees.
Mandy Plumbridge - who works behind the bar on a voluntary basis - said: "It's brought the community together, it's back to being the heart of the village."