Civilians take on Royal Marine commando challenge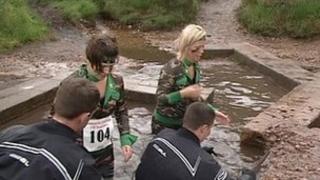 More than 600 people have taken on "one of the most feared" Royal Marines endurance courses in Devon in a bid to raise money for charity.
The Royal Marines' 17km-event (11 miles) across Woodbury Common includes a "crocodile pit and black bogs".
Organisers said the event raised about £60,000 for the Royal Marines Charitable Trust.
Former Marine Alan Hardy said: "Everybody takes part, from bankers to housewives."
The event started in 1990 when 80 people attempted in a 3km running course including the assault course.
It has now grown to courses of 4km and 10km every October and another 17km course in May, with entrants coming from as far as Cyprus and Australia.
Mr Hardy said: "The course is a mixture of road and cross country running with a few interesting obstacles thrown in for good measure.
"We've got the crocodile pit, the sheep pit, we've got black bogs and completely black tunnels to crawl through."