Plymouth Argyle owner James Brent signs Pavilions deal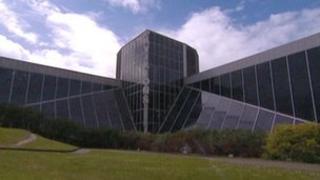 Plymouth Argyle owner James Brent has clinched a deal to buy Plymouth Pavilions from the city council.
Mr Brent's £83m regeneration plans for the site include a larger concert venue at the Pavilions and a retail and residential development.
He will also build a new ice rink near Plymouth Life Centre - one of the sale conditions stipulated by the council.
The entrepreneur said it would establish Plymouth as a "leading centre for sport, leisure and culture".
In 2010 the local authority decided to sell off the subsidised Pavilions as part of its efforts to save £30m.
New grandstand
The Labour-controlled council leader Tudor Evans described Mr Brent's plans as "hugely exciting" and said they would provide one of the biggest investments in Plymouth for years.
"This is a particularly exciting plan given the tough economic climate and will provide a welcome boost to the local economy," he said.
Mr Brent's company Five Directions Ltd (FDL) plans include a residential and retail development, sport and leisure facilities to complement the Plymouth Life Centre and a proposed new grandstand at Plymouth Argyle's Home Park.
The existing ice rink and arena facilities will continue to be run by the Theatre Royal until the transfer to FDL, which is expected to take place in October.
Mr Brent said the Pavilions ice rink - the only permanent one west of Bristol - would remain open until the new rink has been built.
The swimming pool at the Pavilions closed in March - days before the city's new £46.5m Life Centre opened with a 10-lane 50m swimming pool and diving area.