Les Bate's daughter says St Kew Highway murder inquiry delayed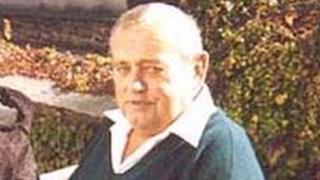 Delays in launching a murder inquiry "probably contributed" to the killers of a farmer not being found, his daughter has said.
Les Bate, 71, was found beaten to death at his farm in Cornwall in 2002.
His daughter, Kathy Arnold, claims that police failed to start a murder inquiry until after a second post-mortem examination, which meant evidence may have been lost.
An inquest into Mr Bate's death is taking place at Truro City Hall.
Devon and Cornwall Police have not commented on Ms Arnold's claim, made in an interview from her home in Australia, where she now lives.
'Confusion from start'
"Some family members are on the verge of giving up hope that any justice might happen, but I'm still hopeful that we might get a result," she said.
"I think with dad's particular case there were the two post-mortems and I think the delay in announcing the fact that it was a murder investigation and the confusion from the start probably contributed to the lack of a result.
"I don't think people can commit a crime of that magnitude without someone in their family, someone that they live with, knowing about it.
"I live in the hope that husbands and wives, marriages and situations change and one can only hope that a change in marital situation might be just the thing to promote that person coming forward."
Mr Bate, 71, was found dead close to the door of his remote home, on Tregilder's Farm, at St Kew Highway by his son, Martin, who lived nearby.
He had been seen in his local pub, the Malsters Arms at Chapel Amble, two days previously, with about £1,000 in a brown leather wallet, which was never found.
'Sufficiently optimistic'
Police treated the death as suspicious from the outset, but a murder inquiry was not started until after the second post-mortem examination.
Mrs Arnold said: "It's a lot easier for me than it would be for my brother because I'm on the other side of the world. I think it's very difficult for him living in Cornwall, driving past the house, driving past the scene all the time.
She said 10 years of waiting is a long time, but remains confident that justice will be achieved.
Mrs Arnold, who is not attending the inquest, said: "I'm sufficiently optimistic that when I come [to Cornwall] I want to come for a court case when someone stands trial for the murder."
Police said they would not comment on the claims until after the inquest, which is expected to finish on Tuesday.