North Devon District Hospital's new £1m children's unit opens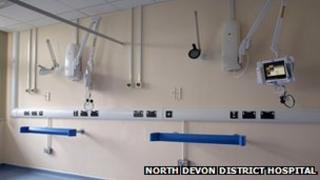 A new £1m children's unit at a Devon hospital has opened.
The facility at North Devon District Hospital is expected to be used by almost 3,000 children every year, hospital officials said.
It includes a high dependency unit, overnight family rooms and doctor training facilities.
The special care baby unit was opened on Tuesday, and the Caroline Thorpe ward for in-patients was opened on Wednesday.
Previously, both units were housed in different parts of the hospital.
Toby Cooper, head of midwifery and children's nursing services, said: "I'm so excited, the staff are just desperate to get in and we can't wait to be part of this big team which will allow us to share our skills."