Mobile South West billboards 'hurt tourism'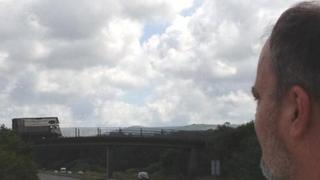 A man claims that mobile billboards on the side of South West roads risk destroying the tourism industry.
Lloyd Richards said the billboards on vehicles parked on lay-bys or over bridges, were a blot on the landscape.
Cornishman Mr Richards, who has 2,500 photographs of advertising billboards, said the problem had increased over the past 10 years.
Devon Tourism Partnership said it had received no complaints about the billboards.
'Attack on prosperity'
Mr Richards said: "The most valuable economic asset of the South West is its environment, its historic villages and towns and its beautiful countryside and trash is being put all over it.
"It is an attack on the economic prosperity of the area.
"Each unauthorised advertisement becomes a honey-pot which attracts others."
Laura Holt, chairman of the Devon Tourism Partnership said: "We have never had this raised as an issue by visitors and we don't think its damaging the economy at all.
"But it is raising the issue of the challenges businesses face in acquiring adequate and appropriate signage."
The Highways Agency said any advertising material which risked distracting drivers was removed.
The agency urged anyone who spotted hoardings or banners on roadsides or across bridges on trunk roads to contact it.