South West Water fined £33,515 over Plymouth sewage spill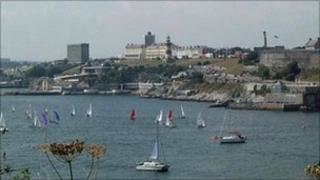 A fine has been issued to South West Water (SWW) after sewage leaked into a Devon river.
The company must pay £33,515 after three out of four pumps at Plymouth Central sewage treatment works failed in August 2010.
At Plymouth Magistrates' Court SWW pleaded guilty to four offences after sewage leaked into the Plym estuary.
The Environment Agency (EA), which brought the case, said it was "disappointed" by the incident.
The court heard the pumps failed on August 22 with SWW notifying the agency on 26 August, at the start of a bank holiday weekend.
'Accept responsibility'
EA said water samples taken on 26 August showed the Plym estuary was heavily contaminated with sewage bacteria with East and West Hoe both failing the minimum European bathing water standard.
The pollution also affected locations around Cattewater and Plymouth Sound.
SWW pleaded guilty to four offences of discharging poisonous, noxious or polluting matter into the Plym estuary, failing to provide and maintain at least one duty standby pump and failing to notify the Agency, as soon as practicable, of a storm overflow from Plymouth Central treatment works.
Sarah Taylor from EA said: "Given the history of pump failures at this works, South West Water should have made the necessary improvements to ensure its pumping station could cope with heavy rainfall events.
"We were very disappointed to discover the site had so few operational spares and that is why the Environment Agency took this prosecution."
In a statement, the company said it "has always accepted responsibility and apologised for the problems" in 2010, "after storms badly damaged three of the four main pumps at the works".
It added that it had since invested £250,000 in installing five standby pumps, appointed a manager for the site and changed its operating processes.