Devon Tarka Line trains overcrowding 'madness'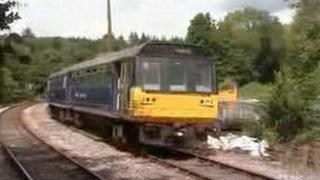 Overcrowding on trains in parts of Devon has been described as "madness".
Passenger Anne Turner said conditions on the Tarka Line trains, which have two carriages between Barnstaple and Exeter, were unacceptable.
The Department for Transport (DfT) said the government funded additional carriages for First Great Western (FGW) to deal with crowding issues.
But FGW said there were no more carriages available to use on the Tarka Line.
'Prefer Delhi trains'
Ms Turner, from Barnstaple, regularly uses the 40-mile (64km) Tarka Line and takes trains in India on backpacking holidays.
She said: "I would say that I would prefer to get the train out of Delhi along through Rajasthan than to try and get on the train when it's packed at Exeter or Barnstaple.
"It just seems madness. I really can't understand why they can't add another carriage to it, especially when they know it's going to be crowded."
Each of the largest carriages used on the line, which carries about 512,000 passengers a year, can seat up to 147 people according to the Tarka Rail Association.
Julian Crow, FGW's regional manager for the West of England, said the service had seen a 157% rise in the last 10 years and a 15% rise in the last year.
He said: "We have seen a huge increase in people using the line.
"We don't want people standing, but the problem is the sheer number of people using the service.
"And there are simply not any more carriages.
"We are very conscious of the numbers. We want to see the use of the network maximised with new stations and rolling stock and we will be doing our utmost to deliver that as soon as we can."
The Tarka Rail Association said more people were using the train because of the rising cost of petrol and an increase in numbers of people living in the area.
A DfT spokesman said: "In February the government funded additional carriages for First Great Western to deal with crowding issues throughout the franchise, including specifically for the Exeter area and it still expects the train company to make best use of their existing carriages.
"Any train company is free to invest in additional carriages to benefit passengers."