Plymouth memorial service for families of killed troops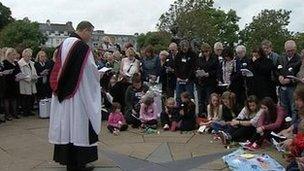 A memorial service has been held in Plymouth for families of service personnel killed in military action.
About 120 families from across the UK attended the service, organised by the Bereaved Families Support Group at the city's war memorial on the Hoe.
The service began with a bugler playing the Last Post.
Members of the county's Military Wives choir also attended to support the families.
The group was set up by Roger Bacon after his Army officer son, Maj Matthew Bacon, was killed by a roadside bomb in Iraq in 2005.
He said: "It was the worst day of our lives. You lose a son, and it's the worst possible thing.
"It's the wrong way round - we should be going before he does."
Royal Navy chaplain the Reverend Ian Wheatley said the gathering served a very important purpose.
"All these families are going through a similar grief experience, albeit from different events," he said.
"Being able to gather round and remember the people they've lost has been poignant and marvellous at the same time."
Elsewhere in the county, the band of Her Majesty's Royal Marines performed a full marching display in Exeter.
The event was aimed at raising public awareness of Armed Forces Week, but the Royal British Legion said it was also an important show of support for service personnel and their families.
On 30 June, Plymouth will lead the national Armed Forces Day celebrations.
The city council is also preparing to sign a new covenant with the forces.
The covenant is a commitment by the council and other organisations to help forces members, veterans and their families with issues such as housing, education, healthcare and employment.
"At its heart is a shared understanding that the service community should be able to contribute fully to local life and benefit from all that Plymouth has to offer," the council said.
Related Internet Links
The BBC is not responsible for the content of external sites.