Devon schools trial American teaching to cut disruptive behaviour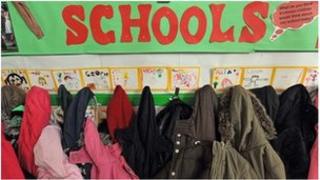 Teachers from 80 Devon primary schools will trial American teaching methods in a bid to reduce disruptive behaviour in the classroom.
Organisers said it was about building on teacher's knowledge and offering additional support.
Researchers from the Peninsula College of Medicine and Dentistry (PCMD) are behind the scheme.
The schools will be involved in a five year study from September to see how effective the project is.
The PCMD has received £1.7m from the National Institute for Health Research to test the scheme.
The course, which is called the Incredible Years Teacher Classroom Management (TCM), has already been trialled on 40 teachers in Devon.
Dr Tamsin Ford, clinical senior lecturer at PCMD, said the results from the trial were positive.
'Powerful and effective'
She said the scheme was about "refining what teachers are doing" and offering additional ways of dealing with disruptive pupils while building on their social and emotional skills.
Ruth Dixon from Hayward's Primary School, in Crediton, who took part in the initial pilot study, said: "The ideas were very practical, some were very simple and others included very detailed plans for pupils who struggled with their behaviour.
"The strategies have allowed us to keep very positive and share good practice," she added.
Dr Ford said "Over the last 20 to 30 years there's been a gradual increase in the level of disruptive and antisocial behaviour.
"Our initial study showed the project has the potential to be a powerful and effective tool in education in the UK.
"By taking it forward into a larger study we hope to be able to draw conclusions that will be of benefit to teachers, their pupils and their parents."
Teachers from reception to year four classes will be involved in the study.
Dr Ford is looking for more schools to take part in the project from September 2013.