Exbourne community shop moves underground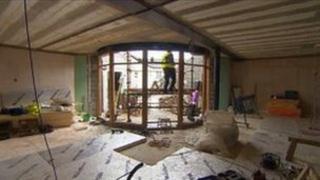 A community shop in Devon, which has outgrown the village hall, has moved entirely underground.
The Burrow in Exbourne has moved under a field in the centre of the village after 10 years of planning.
The £300,000 facility includes a shop, post office and cafe and will be staffed by volunteers, with one salaried manager overseeing it.
Sally Hordern, who is on the committee, said: "We're trying to keep the village alive."
The community shop was first created in 2001 after the local shop and post office closed, meaning the nearest shopping facilities were five miles away in Hatherleigh or Okehampton.
But volunteers found that setting up and dismantling the temporary displays of the shop took too long and there was insufficient storage space.
Ms Hordern said: "We found this particular site was very convenient. It's under a field which is about 12ft (3.6m) up from the pavement.
"It's run by the community for the community so any profit we do make goes back into the village and we're trying to promote local produce
"When we were running the cafe from the temporary site in the village hall it became enormously successful and popular particularly for the elderly people who live on their own."
The Burrow will be open from 08:00-19:00 weekdays with more limited opening on weekends.