Exeter Quay barge resident left 'homeless' by relocation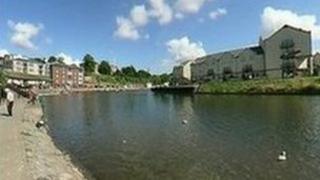 A man who has lived on a barge for 12 years has said he will be left "homeless" if a Devon council forces him to move his vessel.
David May is moored at Exeter Quay and has been asked to move so the Outdoor Education Centre can be developed.
He said there was "nowhere" for him to move to and the notice has caused him "alarm and distress".
Exeter City Council said Mr May should not be living on the barge and was breaching regulations.
Postcoded barge
Mr May moved into the barge in 2000 and said he was given permission by the harbourmaster, which comes under the local authority.
He said he recently informed the council that his water and sewage had been disconnected due to the centre's development, but they would not re-connect him and asked him to relocate.
He said: "I've been here 12 years, I pay council tax, my bins are collected, Exeter Council even postcoded me. I think I've got a right to live here.
"It's like someone saying we're going to move your house somewhere else.
"Where do you take a vessel like this? I'm not moving and why should I, I've been here for this long."
In a statement, the council said it "does not currently permit residential use of vessels at the Basin, where Mr May's boat is moored".
It added: "If he wishes to live aboard his boat Mr May needs to move it to an alternative boatyard or marina where this is permitted and the appropriate facilities are provided."