Yemen car bomb victim David Mockett 'killed by fraudsters'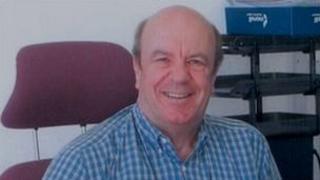 An insurance fraud gang in Yemen had a British marine shipping surveyor killed, an inquest has heard.
Captain David Mockett, 64, from Plympton, Devon, died when a car bomb on his Lexus exploded in the southern port city of Aden on 20 July 2011.
Anti-terrorism police said Capt Mockett "obviously upset somebody" when he became suspicious about a claim on a tanker supposedly attacked by pirates.
The Plymouth coroner recorded a verdict of unlawful killing.
'Criminally motivated attack'
Capt Mockett's widow Cynthia, 65, told the inquest that his last investigation had been into an alleged attack on a Liberian-registered tanker, the Brilliante Virtuoso.
It was allegedly attacked by Somali pirates about 20 miles (32km) off the Yemen coast, but, in a copied email to his wife, Capt Mockett said he "could not find any evidence of bullet holes or exposure to grenades".
After his death, Mrs Mockett spoke to one of his friends, John Murphy, who claimed that Capt Mockett was killed "because of his investigation".
Det Supt Jonathan Tottman, from Scotland Yard's counter terrorism squad, was sent to Aden by the government to investigate the death.
He told the inquest he had ruled out official Yemeni claims that al-Qaeda was behind the killing, and that the "criminally motivated attack" was carried out after Capt Mockett "obviously upset somebody".
He said Somali pirates had targeted shipping lanes, but said a scam was being operated so insurers would pay out once "attacked" ships had been surveyed for damage and loss.
He said: "This was probably the motivation. David had great integrity and professionalism and would not bow to bully boy tactics."
He added that it was unlikely anyone would be brought to justice for the bombing.
Mrs Mockett said that her husband of 43 years "did not feel threatened", had lived and worked in the Middle East for 34 years and Aden for 10.
Pathologist Dr Amanda Jeffery said Capt Mockett, who could only be identified by dental records, died from blast injuries "very quickly".
Plymouth and south Devon coroner Ian Arrow said a "relatively sophisticated" explosive device had been placed underneath his vehicle.