Devon horse charity warning for drivers after 'near misses'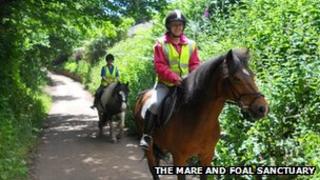 A horse and pony charity in Devon has warned drivers to slow down on country roads after two "near fatal accidents".
The Mare and Foal Sanctuary, based in Newton Abbot, said in one incident a horse galloped off.
In the other, a horse tried to escape a speeding vehicle and fell onto another animal.
No horses were injured in the incidents, which both happened in June, around the village of Combeinteignhead, a spokeswoman said.
Lynzi Phillips, from the charity, said: "If a horse hits your car, that's effectively a tonne or so landing on your bonnet or going through your windscreen.
"These small country roads are used by children walking to school, dog walkers, cyclists, mothers with babies and other motorists - of whom the majority are careful drivers.
"All our lives are being put at risk simply because somebody is in a hurry to get somewhere or is not paying enough attention," she said.
The Mare and Foal Sanctuary was founded in 1988 and rescues and rehomes horses and ponies.