Plymouth £4.3m push to cut car use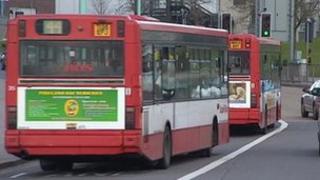 Thousands of Plymouth householders are being asked to get on their bikes or take the bus instead of their cars in £4.3m campaign by the city council.
Plymotion, which will promote the campaign for the city council, will knock on the door of 43,000 homes in the fight to ease traffic congestion.
Plymouth was awarded the money by the Department of Transport.
The council will also be creating a new east-west cycle route through the city and a new cycle lane over Laira Bridge.
Free tickets
The scheme is part of programme which the city council has published which, this year, will see residents in the East End, Mount Gould and St Judes areas of Plymouth offered travel information on the city's walking routes, cycle ways and public transport services.
Next summer the Plymotion "travel advisers" in blue uniforms will be visiting 14,900 homes in the city centre, Devonport and Stonehouse areas followed by 23,700 households in Plympton and Plymstock in summer 2014.
The team will also be offering travel planning advice to businesses in these areas each autumn.
Travel adviser Rosie Starr said the number of household visits was "achievable".
"We are anticipating that we will have a really good response to the programme," she said.
"The numbers are based on experience elsewhere in the country and we really hope people will get on board, listen to us and think how they travel."
She said all those visited would get another visit a year later to assess how much their travelling had changed.
Local bus services will be offering free "taster tickets" to encourage more people on their services.
Ms Starr said: "Hopefully we can persuade people to try the bus again and even if there isn't a direct service we can tell you which buses to take and when you have to change."
Last year the council completed a £19m scheme to ease traffic congestion in the city's east end.
The council, in its Local Transport Plan , is also hoping to reduce carbon emissions in the city by 60% by 2020 and 80% by 2050 and sees the move away from cars towards "low carbon modes of transport" as part of that.