Shoalstone outdoor swimming pool to open sooner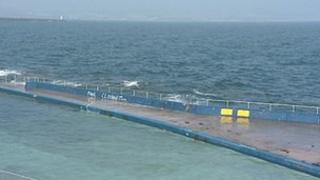 An outdoor swimming pool in south Devon is to open for the summer three weeks earlier than planned.
Torbay Council had said budget cuts meant it could only open Shoalstone Pool, near Brixham, for six weeks from the end of July during the peak season.
The art deco pool will now open on 7 July.
It comes after campaigning and voluntary work by the Friends of Shoalstone Pool. Brixham Town Council has also helped fund lifeguards.
The pool normally opens for four months over the summer, but Torbay Council said it could only fund six weeks in 2012 because of "huge budget pressures".
Brixham Town Council has come up with a £15,000 grant to fund lifeguards.
Volunteer lifeguards had also come forward to help, the Friends of Shoalstone Pool said.
Torbay Council said the pool would initially open from 09:30 BST to 17:30, seven days a week, weather permitting.
Opening times would be extended once the weather improved and longer lifeguard cover could be guaranteed.
It was hoped that the pool would remain open until the end of September, depending on weather and visitor numbers, the council added.
The pool was built on the site of a natural rock pool that people have used for bathing since at least the late 19th Century.