24 Commando Engineer Regiment to be cut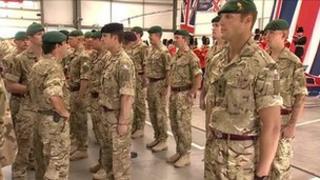 A Devon-based Army commando regiment is to be withdrawn under defence cuts.
Chivenor-based 24 Commando Engineer Regiment will be disbanded, Defence Secretary Philip Hammond said while announcing details of how the Army will cut 20,000 service personnel by 2020.
The Ministry of Defence said the regiment's personnel would be redeployed.
Plymouth Moor View Labour MP Alison Seabeck said she was "sure it is a shock to those closest to 24".
'Great pity'
The regiment is among 17 major units to go as the number of regular soldiers is set to fall from 102,000 to 82,000 while the number of reservists will double to 30,000.
In October members of 24 Commando marched through the north Devon town of Braunton after returning from a six-month tour of Afghanistan.
Liz Spear, the chairwoman of Braunton Parish Council, said she was "horrified" at the announcement.
"We're just so used to having them there. It's a great pity," she said.
"They've always helped us out. If we've ever needed help with anything heavy, they're engineers; they always helped us out.
"They'll just be missed so much."
A statement on the British Army website said the regiment would be not be disbanded "before April 2013".
'Shock across country'
It said: "When units are withdrawn, their personnel will be reassigned to other units - where possible, within the same regiment or corps."
The regiment, which has 361 officers and soldiers who wear the coveted Green Beret, is trained in amphibious warfare, as well as operations in jungles, deserts, mountainous terrain and arctic conditions.
Shadow Defence Minister and Plymouth Moor View MP Alison Seabeck said: "It's a shock being felt across the country, in town and cities.
"People are having to come to terms with the fact that long-established and much-loved names and regiments may not be taking the same shape or form."