No ambulance for early hours discharge hospital patient, 79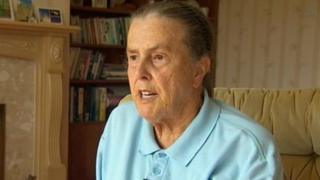 An elderly woman had to get a taxi home after being discharged from hospital in the early hours of the morning.
Ann Knight, from Budleigh Salterton, was admitted to the Royal Devon and Exeter Hospital with breathing problems caused by a chest infection earlier this year.
Doctors discharged her at 03:30 BST, but Mrs Knight had to pay £30 for a taxi.
The hospital said Mrs Knight did not qualify for ambulance transport.
A statement issued by the Royal Devon and Exeter Foundation Trust said: "Unfortunately Mrs Knight would not have met the local NHS transport policy criteria for an ambulance to take her home because she was medically fit to be discharged and it was not detrimental to her condition or recovery to travel by other means."
Mrs Knight was taken to hospital by ambulance on 28 March at about 22:00 after contacting her out-of-hours GP service because she was having difficulty breathing.
"I'd been ill for three weeks and at one point I was so short of breath I phoned the out-of-hours doctor," she told BBC News.
It was about two hours after arriving at the hospital before Mrs Knight was seen by a doctor - by which time her breathing had slightly improved.
The doctor said she could go home and when Mrs Knight asked about being admitted, she was told there were no beds available.
"I was taken aback, but I was vulnerable and when you're ill you don't argue because you're not up to it," she said.
Following a review of its process for discharging patients from the emergency department overnight, the trust said it was satisfied there was no clinical reason to admit Mrs Knight and she was well enough to go home.
"I think it's an abomination - it's inhumane to send somebody home like that to a cold, empty house, particularly at my age," Mrs Knight added.