Dartmoor Proper Job recycling centre has planning refused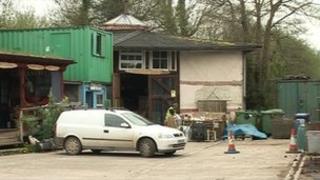 A community recycling centre in Devon has had its retrospective planning permission refused by Dartmoor National Park Authority (DNPA).
Proper Job, based in Chagford, has recycled and sold items for 20 years using portable cabins on site.
But DNPA said the buildings would have a "detrimental effect" on the location. Proper Job said it would appeal.
Committee chairman Bill Hitchins said he hoped the organisation would talk to DNPA and "find a way forward".
Proper Job had applied retrospectively to use 13 portable cabins for storage and retail in connection with its existing recycling and composting facility, which it said was in keeping with the small industrial site on which it is situated.
'Financially unviable'
But a planning committee report said the portable cabins "would have a detrimental effect upon the character and appearance" of the area due to their design and visual impact.
It said the change of use to retail was also "likely to have a detrimental effect upon the settlement of Chagford" and concern was raised over the possible loss of screening provided by vegetation.
The report added there was "much sympathy for the applicants and Proper Job's financial situation" but the panel concluded a retail operation was "unacceptable" and permanent portable structure were "inappropriate" for the area.
Previously, Proper Job voluntary director Angharad Barlow said: "It [any rejection of application] could close us down and make us financially unviable, which would mean the six local people who work here would lose their jobs.
"It could also have a huge effect on the local community."