Tedburn St Mary solar farm plans rejected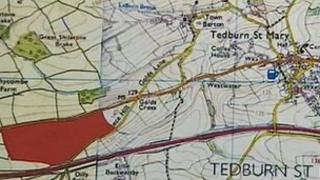 Plans for a solar farm covering a 40-acre area over five fields in Devon have been rejected.
Members of Teignbridge District Council were recommended to approve the application, for near Goldcross Hill, just outside Tedburn St Mary village.
But it was turned down by 15 votes to five because of concerns about possible impacts on the area.
The scheme would have produced enough electricity for 1,700 homes, developers Inazin said.
In its application, Inazin said the proposed panels would be 2m and 3m (6ft 6ins and 10ft) tall, and that the site would be surrounded by a 2.4m (8ft) steel fence.
Further security would have been be provided by a number of thermal imaging cameras on 6m (20ft) high posts.
Protesters had argued that the project would have been almost the same size as the village and would have ruined the look of the countryside.
Residents were also worried about how it might affect drivers on the nearby A30, saying motorists could have been distracted by glare from the panels.
Inazin said the panels would have been be covered in an anti-reflective material that minimised such glare and that it had received no objections about the project from any highways authorities.
It added that it was an ideal location because it was south-facing, away from housing and outside any land that had any form of protected status.
Planning officials had also said the project would not have affected people's views too much, and the impact on the wider landscape would be limited.
After the plans were rejected, protesters said they were "delighted" at the decision.
Protester Andy Leithgoe said: "I think that the overwhelming case that we put in that there was a landscape impact won them over."
Inazin has not been available for comment, and it is not known if the company will appeal against the decision.