Erosion 'could hit 160 south Devon properties'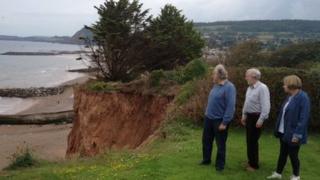 About 160 properties could be lost to the sea in south Devon over the next 23 years, according to a report.
And it warns that if coastal defence work is withdrawn the figure would rise to 580 houses and businesses lost.
The Shoreline Management Plan (SMP) was produced by the Environment Agency and councils to inform planning policies.
The south Devon report suggests that bolstering defences in coastal villages Branscombe, Torcross and Beesands may be unsustainable as sea levels rise.
Erosion 'accelerating'
The SMP, which takes climate change and the geology of the area into account, says that in the north Devon area , 19 residential and commercial properties risk being lost over the next 100 years.
If defence works were withdrawn the figure could rise to 325 properties.
Tony Burch, a retired strategic planner and policy advisor in Devon for the Environment Agency, said: "We have a very active coastline in Devon, East Anglia and in other parts of the country.
"Over the generations people have built on the coastline and with sea level rises, greater storms and climate change, erosion is accelerating in some locations."
Twelve houses in Cliff Road, Sidmouth in south Devon are losing their gardens at a rate of 6.5ft (2m) a year.
A working group has been set up to consider ways to slow down the erosion.
The Environment Agency, which publishes SMPs on its website , said: "Approximately 10% of the population in England and Wales are at risk from coastal flooding; billions of pounds of infrastructure are at risk from this and coastal erosion.
"Coastal flood risk management needs to take account of the local features of each section of the coast in order to be managed effectively: a 'one size fits all' approach won't be cost effective.
"As a result of this, coastal flooding is managed through the Shoreline Management Plans (SMPs) on each stretch of the coast.
"We work alongside local authorities in developing each SMP to ensure that coastal flooding is managed sustainably."