Torquay crash: Family speak of shock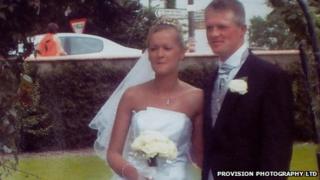 The family of critically injured parents who lost a child and an unborn baby in a car crash have spoken about their shock.
Con, 39, and Elber Twomey, 36, from the Irish Republic, are being treated at Derriford Hospital in Plymouth, Devon, after the crash in Torquay on Friday.
Their son Oisin, two, and their unborn baby died in the crash.
The driver of the second car - a man in his 20s from Torquay - was arrested at the scene, but later died.
'Light of their lives'
Family at the bedsides of Mr and Mrs Twomey said in a statement that Oisin had been "the light of their lives".
They said that family and friends were praying for the couple who were well known in their village of Meelin, in County Cork for their involvement in the Gaelic Athletic Association and local events.
They said: "Con and Elber, like so many of the good things in life, always came together.
"The pride they had in the life shared with Oisin was so obvious to all who met them."
Relatives said the couple had already named their second child Elber Marie.
"The expectation they had of the child Elber carried adding to this happiness, was also so real.
"As they lie ill this loss is so hard to take."
The fatal crash has been referred to the Independent Police Complaints Commission because it was witnessed by a police officer.
Anyone who saw the crash, or who has any information, has been asked to contact police.