Plymouth escapee witness 'kept on hold by police for 40 minutes'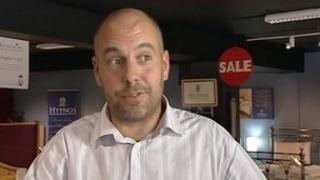 A shop manager who tried to report seeing a suspected rapist escaping from a police station in Plymouth could not get through to police despite waiting on the phone for 40 minutes, he says.
Karl Tomlinson said he called 999, but was passed on to the non-emergency number, 101.
He held on for 10 minutes and then hung up. He tried again, holding for 30 minutes before giving up again.
Devon and Cornwall Police said they had begun an investigation.
Mr Tomlinson tried to contact police after he recognised a man who went through the bed shop he managed.
He had seen the man's picture on the internet.
'Trying to help'
Staff tried to challenge the man, who was wearing only jogging bottoms, after he entered the store on Saturday morning. He then ran off.
He had been in custody at nearby Charles Cross police station after being arrested on suspicion of rape.
He was recaptured by officers later in the day.
Mr Tomlinson said: "It was frustrating, mainly because I was trying to help.
"It makes you think twice about how quick they will respond to an emergency."
Devon and Cornwall Police said they should always be in a position to assess and appropriately deal with information received via the 101 number.
The force said it was busy on Saturday because it was dealing with many calls about flooding.
It added that community intelligence was of the utmost importance to them in the fight against crime.
An investigation is under way into how than man managed to escape.