Torquay crash: IPCC investigates 'possible police chase' before collision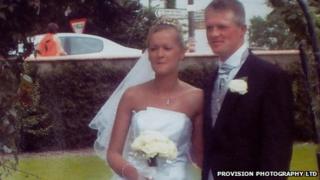 The police watchdog is investigating whether a police vehicle was pursuing a car involved in a collision which killed a child, an unborn baby and seriously injured their parents.
The Twomey family were in the crash in Torquay on Friday afternoon.
The driver of the second car was arrested at the scene but later died.
The Independent Police Complaints Commission said it was investigating "whether or not an officer was in pursuit of a black Vauxhall Vectra".
Suicide inquiry
Con, 39, and Elber Twomey, 36 - from the village of Meelin, in County Cork in the Irish Republic - remain in a critical condition in hospital in Plymouth after the crash in Torquay at about 14:45 BST on Friday.
They were driving along Hamelin Way when their Volkswagen Golf was involved in the head-on crash with a Vauxhall Vectra being driven by a Polish national in his 20s from Torquay.
Their son, Oisin, two, and their unborn baby died.
Concerns over the state of mind of the Polish man are being investigated.
It is understood a line of inquiry is that he was suicidal.
The accident was initially referred to the Independent Police Complaints Commission (IPCC) because the crash was witnessed by an officer, Devon and Cornwall Police said.
The IPCC said it had assessed the collision and "decided to independently investigate police actions and decisions before the collision, including whether or not an officer was in pursuit of a black Vauxhall Vectra".
IPCC Commissioner Rachel Cerfontyne said: "This is a tragedy for the family and friends of those who died and also those still in hospital.
"The IPCC will be using its own investigators to establish what happened."
It has appealed for witnesses.