Injured servicemen finish charity ride in Plymouth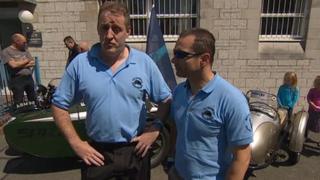 Four wounded soldiers have completed a 643-mile (1,035km) charity ride from Inverness to Plymouth in a vintage motorcycle and sidecar.
Colin Hamilton, John Sandford-Hart, Jimmy Wilson and Ben Parkinson were raising money for the charities Troop Aid and Pilgrim Bandits.
Both charities help military personnel who have been wounded.
Being bitten by midges in Scotland was one of the low points of the week-long trip, Sgt Hamilton joked.
The classic 1937 BSA G14 Combo motorbike was loaned to the men by the National Motorcycle Museum.
Hospital visit
It was ridden in turns by Sgt Hamilton, who lost a leg while serving in Kosovo, and Sgt Sandford-Hart, who lost a leg in a boat accident.
The bike riders said despite the weather and a few "technical issues" - which included running out of fuel twice - the trip was a great success, with amazing support all the way.
Sapper Wilson and Lance Bombardier Parkinson, who each lost both their legs in an explosion in Afghanistan, took it in turns to ride in the sidecar.
One of the stops on the journey was made at the Queen Elizabeth Hospital in Birmingham where injured soldiers receive specialist treatment.
They finished their journey just before midday at the Royal Citadel in Plymouth - home to 29 Commando Regiment Royal Artillery.
The men, who are no longer serving in the military, have already raised about £5,000 for their two charities.
Troop Aid spokeswoman Linda Stokes said: "The money raised will enable Troop Aid and Pilgrim Bandits to continue their work in giving our injured troops their dignity and confidence back."