Blue Flag sewage fear for Devon beaches after rainfall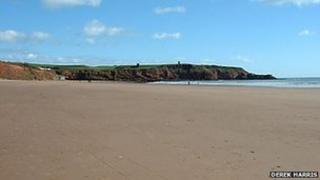 Devon could lose some of its Blue Flag ratings following flooding and heavy rain, the Marine Conservation Society (MCS) has warned.
The MCS said the rainfall meant sewage was leaking into water more frequently.
Cornwall-based Surfers Against Sewage said its figures showed sewage had leaked 94 times in Devon since May, compared to three times on average.
Keep Britain Tidy, which awards the flags, said they were based on criteria including water quality and safety.
Robert Keirle, pollution manager at MCS said: "There's a direct link between higher rainfall and increased frequency and increased amount of this raw sewage spilling out into the environment.
"There is a very real risk that Blue Flags will be lost in Devon and other parts of the UK as well because we've had such a long-sustained period of bad weather."
SAS said combined sewage outflows - where storm water and domestic sewage waste is discharged into the sea - had occurred 94 times since May with seven instances at Westward Ho! alone.
Andy Cummins from SAS said: "The water company needs to go in and review the assets that they have to make sure they are working properly because we shouldn't be seeing as many discharges.
"We have to accept during these periods of extreme rainfall that raw sewage and rain water will come out, it's not a system that we're happy with but we accept it.
"However, it should be about three times a bathing season."
From 2013, Blue Flag beaches will have to provide warnings to beach users when nearby combined sewer overflows discharge, if that discharge could temporarily affect the bathing water quality.
In a statement, South West Water said: "We have seen exceptional rainfall in April, June and in early July and our network has diverted most of the floodwater away from towns and villages, helping to minimise the risk of homes flooding.
"We're working very hard to make sure our network of pumps, storm storage and pipes is working optimally in these extreme conditions."