KEVICC uniform protest detentions: Parents slam 'spiteful' crackdown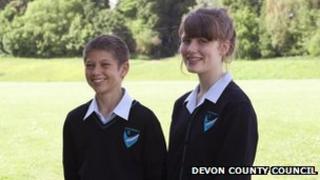 Parents at a school in Devon have expressed shock that their children are being punished for protesting against the reintroduction of a school uniform.
King Edward VI Community College, in Totnes, abolished its uniform in 2003 but said it would return in September.
Some students have been disciplined with "internal exclusion" for staging protests against the decision.
Parent Mik Wells said the punishment was "unfair and spiteful". The school said the protests were "truancy".
Principal Kate Mason announced the school would reintroduce a uniform in September following a report which suggested the school was perceived as "scruffy".
She said the school hosted a consultation and the "responses clearly favoured" a uniform.
'Culture of fear'
Pupils opposed to the changes staged protests - including waving banners and walking out of lessons - on 2, 3 and 4 July.
But Mr Wells, whose 14-year-old daughter has been put into internal isolation for two days, said he was was "shocked" by the punishment.
Chris Mockridge, whose daughter also goes to the school, said: "This isn't all about uniform, there's people who really want the uniform who are really angry also.
"The communication within the school has completely broken down.
"They won't talk to me and they won't talk to anyone else - that's not a culture of openness, that's a culture of fear."
Police involvement
Mr Mockridge said the exclusions were taking place during Activities Week.
"Parents have paid for these activities, the dearest of these is £250, and the kids are not going to go on those activities, so who's going to pay for them? No-one's talking."
On its website, the school said the protest had led to "misbehaviour".
It said: "The behaviour was disruptive but contained by staff on site and then by the police on the bridge.
"There was, however, a small number of students who chose to protest... such truancy cannot continue."
A police spokesman said no-one was arrested during the protest.
The local education authority, Devon County Council, said it was a matter to be dealt with by school governors.
The 450-year-old school, also known as KEVICC, includes a sixth form and a performing arts college. It recently got a "satisfactory" rating from Ofsted.