Paralysed Devon Talk Talk customer left without phone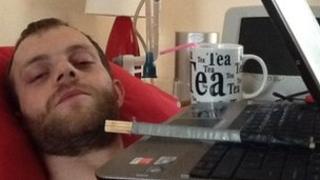 A paralysed man says he lost the use of vital equipment that could help save his life because his phone was cut off while switching phone companies.
A carer for Dominic Lovett, 24, from Horrabridge, west Devon, is alerted through a system that uses his landline if he feels unwell or needs help.
Mr Lovett said he was switching from BT to Talk Talk when his service was cut for five days.
Talk Talk said it would send an engineer on Tuesday.
Alarm 'useless'
Mr Lovett decided to change companies after being told about Talk Talk's internet packages by a cold-calling salesperson.
The company requires customers to rent their phone lines from it for broadband packages.
Mr Lovett, who is paralysed from the shoulders down as a result of a spinal injury, started having problems with his line last Friday after moving to Talk Talk.
When he contacted a customer helpline using a computer router the company provided, he was initially told an engineer would not be available until 27 July, two weeks later.
He then explained why his landline was vital to him during a number of calls over the next couple of days, and he was given a revised date of 24 July.
He said: "Obviously, without being connected to the landline, it [the carer alarm] is pretty much useless.
"In the most extreme circumstances, if my carer does not hear the alarm, my blood pressure could sky rocket; and, in the worse case scenario, I could have a stroke and die."
'Stripped of independence'
He said the alarm and the internet helped him feel more independent as he could call for his carer when needed, so they did not have to be constantly around him.
He predominately used the internet as a portal to his friends and family, he added.
"I feel a lot more stripped of what independence I have left without these two services," he said.
Talk Talk said it was sorry that Mr Lovett had been without a phone line, which was because of a fault.
A spokesman said: "We have apologised and are sending an engineer this evening. We will restore a full service as soon as possible.
"We're committed to providing good service alongside great value and learning from instances like this when we could have served the customer better."