Olympic medals would be dedicated to Tom Daley's dad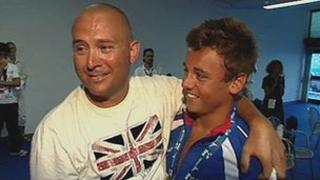 Plymouth's Olympic hopeful Tom Daley has said he would dedicate any medals he wins to the memory of his father.
Robert Daley, who was instrumental in helping his son become one of the world's top divers, lost a long battle with brain cancer in May 2011.
Daley is competing in two events starting with the men's 10m synchronised platform alongside partner Peter Waterfield on 30 July.
The diver said his father "gave me all the inspiration that I've needed".
Childhood dream
The 18-year-old said he keeps his dad's ashes in his bedroom and views him as the greatest influence on his career.
Daley said: "Winning a medal would make all the struggles that I've had worthwhile. It's been my dream since a very young age to compete at an Olympics.
"I'm doing it for myself and my dad. It was both our dreams from a very young age.
"I always wanted to do it and dad was so supportive of everything.
"It would make it extra special to do it for him."
Daley will also aim for gold in the individual 10m platform.
He said: "For me it's about doing the best six dives that I possibly can.
"Diving is such an on-the-day sport that no-one knows what will happen because there are so many divers who can win.
"For me it's about focusing on the process of each individual dive rather than the outcome."