KEVICC uniform protests: Students 'face expulsion'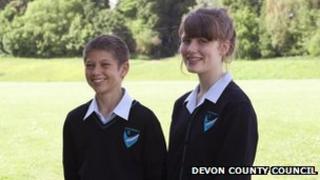 Students who refuse to wear school uniforms when they are reintroduced at a Devon school could be expelled, their head teacher has said.
King Edward VI Community College, in Totnes - known as KEVICC - abolished uniforms in 2003 but is bringing them back in September.
Students have held protests against the reintroduction plans.
School principal Kate Mason said expulsions for not wearing uniforms would be a "very, very last resort".
'Perceived as scruffy'
Ms Mason said: "We would take it on a case-by-case basis.
"We are doing what we think is the right thing in the best interests of all students, and we will continue to do so."
Ms Mason announced the school would reintroduce a uniform following a report to governors which suggested the school was perceived as "scruffy".
The report added that in some cases parents were put off from sending children to the school because of this.
Ms Mason said the school conducted a consultation and the "responses clearly favoured" a uniform, the design of which students had been involved in.
Protests were staged by some students on 2, 3 and 4 July, when they walked out of lessons and waved banners.
Some students were disciplined with "internal exclusion" for staging the protests, meaning they were kept in isolation in school.
School governors had previously said that the uniform policy would be reviewed in 2015.
The 450-year-old school includes a sixth form and a performing arts college. It recently got a "satisfactory" rating from Ofsted.