Kawasaki 'to create 100 new jobs in Plymouth'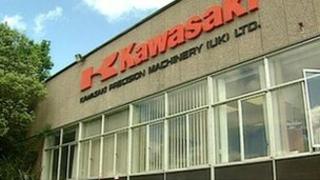 About 100 new jobs are likely to be created with a multi-million pound investment at a Plymouth factory, the BBC understands.
Kawasaki Precision Machinery at Ernesettle, which took over the site in 1994, makes equipment including hydraulic pumps and motors.
A £6m investment is believed to be planned for the plant.
A group which represents city manufacturers said local industrial output had recently risen.
BBC South West Business Correspondent Neil Gallacher said: "Kawasaki has weathered the ups and downs of the last few years better than some other local factories.
"Its neighbour, Toshiba, ceased manufacturing in Plymouth altogether.
"It has become rare for any factory in the area to announce investment on this scale."
More details could come as soon as Friday when a senior corporate figure was expected to fly in for a formal announcement, he said.
The Plymouth Manufacturers' Group - which represents a number of manufacturing and engineering sector employers within the city's travel to work area; including, Babcock Marine, Bombardier and Wrigley - said that its membership was at an all-time high, with about 20 members.
It said employment numbers in the sector locally had fallen to about 12,000, but that output had risen.
The group's members had a combined turnover of about £1.6bn, it said.