Cars on Teignmouth schools' zig-zag lines face £70 fines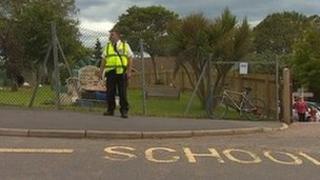 Motorists who park on yellow zig-zag lines outside schools in a south Devon town face being given £70 fines.
New road orders have closed a previous loophole which prevented tickets being issued by enforcement officers in Teignmouth, Teignbridge District Council said.
The council said warning notices would be issued first.
Drivers who consistently failed to heed warning notices would be issued with a £70 penalty notice, it added.
The markings are to provide a clear space for children to see traffic and for drivers to see them when they cross roads.
The new orders applied at all three primary schools in the town, along with Trinity Boarding School and schools in nearby Stokeinteignhead and Bishopsteignton, the council said.