Kawasaki confirms £6m Plymouth factory investment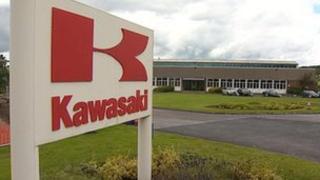 A multi-million pound investment at the Plymouth factory of Kawasaki Precision Machinery is to expand its operation, bosses have confirmed.
The plant at Ernesettle, which it took over in 1994, makes equipment including hydraulic pumps and motors.
The company said a £6m investment to expand plant workings was the first phase of a five-year investment plan.
The increase would mean the creation of between 75 and 100 jobs in the long-term, the company said.
Kawasaki confirmed the expansion investment, saying the floor space for the plant's workings would be expanded by about 40% as a result.
The project had been partly financed by the European Regional Development Fund, it said.
KPM UK's deputy managing director Steve Cardew said: "It's a medium to long-term investment, but it's very positive for Plymouth."
The factory currently has about 300 staff.