Torquay death crash charitable fund set up for families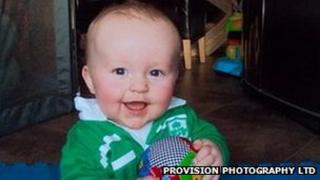 A charitable fund has been set up for two families affected by a fatal head-on crash in Torquay.
Oisin Twomey, aged 16 months, and his unborn sister died in the crash on 6 July while their parents Con, 39, and Elber Twomey, 36, from the Irish Republic, remain in hospital.
The driver of the other car involved, Marek Wojiechowski, 26, died leaving a widow and two children.
The money will help pay for funeral and travel costs for relatives.
Susie Colley, who helped set up the fund, said: "It is already up to about £1,200 but I would like to see thousands raised.
"I know the people of Torbay have been deeply affected by this.
"We are now thinking about the survivors and both sets of families are in a powerless situation."
The Twomey family were on holiday from Meelin, County Cork.
Mr Wojiechowski was originally from Poland but lived in the area with his family.
Twenty-five emergency service vehicles attended the incident in Hamelin Way, along with three air ambulances which helped to take them to hospital.
The road was closed for more than 10 hours while the vehicles were recovered and forensic examinations took place.