First plan to axe all north Devon bus routes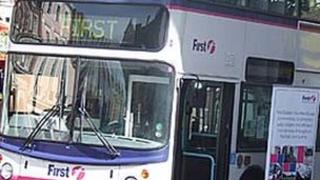 All bus routes run by First in north Devon could be axed, leading to the loss of up to 100 jobs.
A First spokesperson said the 10 routes were "under-performing" despite its best efforts.
First had wanted to sell off the network in to Stagecoach, but the deal fell through after the Office of Fair Trading (OFT) referred the deal to the Competition Commission.
It is hoped another bus company or companies will take the routes over.
When the OFT referred the proposed merger to the Competition Commission earlier this month, it said it was because it could reduce competition on a number of routes where the firms competed around Barnstaple. Stagecoach then "reluctantly" withdrew from the merger.
But people who uses bus services in the area said there would be a public outcry if all the services were stopped.
"If all those First buses disappear, I don't know how people are going to manage," one passenger said.
John Gulliver from the North Devon Public Transport Users said the Bideford to Barnstaple route was probably one of the busies in the county.
"If First pulls out completely and nobody picks up the pieces it will be disastrous," he said.
"There are people who use these buses heavily - they use it in particular to get to places like North Devon District Hospital and for people who need to get there, that's a vital service and would need to be replaced."
First said it would be working with Devon County Council on the future of bus services in the area.
Other companies providing bus services in the north Devon area, include Beacon Bus, Filers Travel, Stagecoach, Taw and Torridge Coaches, TW Coaches and a Barnstaple park-and-ride service.