Funding 'difficult' for Hemerdon tungsten and tin mine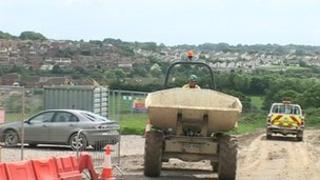 The company behind bringing a tungsten and tin mine back into operation in Devon has said it has been "difficult" to raise the funds.
Humphrey Hale, of Wolf Minerals, said it had raised £75m but a further £50m was needed for Hemerdon mine.
He said the money had so far come from loans but the rest would be raised on the stock market which was "difficult" in "current marketing conditions".
"This is going to happen, there's no doubt about it," Mr Hale explained.
"The only thing that will stop it is if the tungsten price descended to a place where this [making profit] can't be done."
On Friday, a 600m road between Lee Moor Road and West Park Hill in Plympton was opened as the first major construction work at the site.
It is thought that once opened the mine will be the fourth largest tungsten resource in the world.
Tungsten is used in metal-working, construction and in the manufacture of electrical equipment and light bulbs.
It was discovered at Hemerdon in 1867 and mining was carried out between 1919 and 1920 and again from 1934 to 1944.
Wolf Minerals hopes to begin mining there in 2014.