London 2012: Paul McCartney wishes Exmouth sailors luck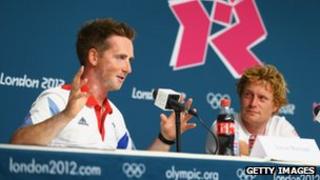 Two Olympic sailors from Devon have been sent a message of support by Beatle Sir Paul McCartney.
Team GB sailors Stevie Morrison and Ben Rhodes, from Exmouth, received the backing as their boat, Lovely Rita, is also the name of a Beatles track.
Sir Paul wrote: "Wishing you the very best of luck on the Lovely Rita in the Games. Happy sailing to you both."
Morrison said he was delighted with the message and described the musician as "a genuine legend".
Sir Paul added: "From someone who loves to potter about on his little Sunfish [a small sailing dinghy]. All the best, Paul McCartney."
Morrison added that they welcomed the support, even though it was "a touch surreal".
Lovely Rita was named after a track written by Sir Paul on the Beatles' Sgt Pepper's Lonely Hearts Club Band album.
Rhodes said Lovely Rita had been chosen because it was "as British a name as it could be".