NHS staff protest about regional pay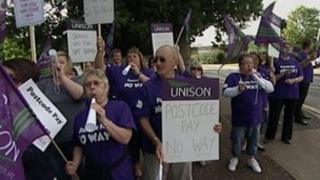 A proposal to introduce regional pay in the NHS in the South West is the first step towards privatisation, protesters have claimed.
Medical staff, demonstrating in Exeter earlier, believe the plan would cause staff shortages and endanger patients.
The Devon Partnership NHS Trust is one of 20 in the region looking at imposing longer working hours for staff, and cuts in salary and leave.
A spokesperson for the Trust said the plans were to "safeguard" its future.
In June the BBC obtained a leaked document outlining the scale of possible changes, put together by a consortium of local health trusts.
Health workers from across the region gathered at Wonford House Hospital in Exeter to lobby members of the Devon Partnership NHS Trust as they arrived for a board meeting.
Sue Orwin, of Unison, said: "Ultimately this is a proposal to slash pay terms and conditions for staff, staff that work extremely hard.
"It's also an attempt to fragment the national pay framework and once that happens it will make every organisation easier to privatise."
A key objective is to reduce the pay bill from 68% to 60% of running costs, which the document suggests could be achieved by cutting salaries, allowances, leave entitlement, sickness benefits and making staff work longer hours.
The leaked document said the consortium aimed to bring forward proposals on regional pay in the NHS in the South West, by October.