Devonport incinerator contract to be inspected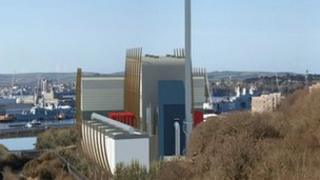 Independent legal advisers are to look into a contract for a planned waste-to-energy plant in Plymouth to see if its location can be changed.
Permission for the incinerator in Devonport was granted last year by the previous Conservative administration.
The leader of the now Labour authority, Tudor Evans, put forward a motion asking for the 3,600-page agreement to be examined.
Some nearby residents have concerns about potential health risks.
'Wrong location'
German company MVV Devonport Ltd was awarded the contract to build the waste-to-plant at the Devonport North Yard last year.
It said the plant would burn 250,000 tonnes of waste a year, producing enough energy to power about 37,000 homes.
The facility would be 62m (200ft) from the nearest house, it added.
Building work is due to start soon.
Mr Evans put forward his motion for the contract examination, saying he was never against the plant, but that he believed the chosen site was the wrong location.
"I have always objected to the location," he said.
During a meeting on Monday, 29 councillors voted for a closer look at the deal while 22 voted against against.
Vivien Pengelly, now leader of the opposition Conservatives, who gave the project planning permission last December when they were in power, said it would be "catastrophic" to break the contract.
She said: "It is the best place for it go and he knows that.
"Residents in the area have lost confidence in him, saying he is doing nothing; so he's done this to prove he is doing something."
The South West Devon Waste Partnership, which is behind the plans, said financial penalties would have to be paid if anyone pulled out of the deal or delayed the incinerator.
Protest group PlymWIN has argued the previous Conservative council's decision to grant permission was "unlawful" because it breached the EU Habitats Directive.
The group was refused a judicial review by the Court of Appeal earlier this month.
MVV said they would work with locals during the construction and operation of it to allay their concerns.