Mary King is 'pride of Devon'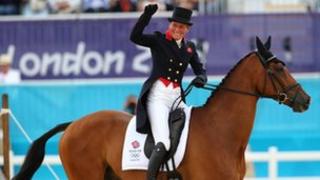 A former student of Devon's silver medal winner Mary King, has said the whole county is "very proud of her".
Stephanie Westacre was one of many friends watching every step of the way at Sidmouth Donkey Sanctuary, for which Mrs King raises funds.
Ms Westacre said: "I'm sure she's very proud of herself and her team for getting silver.
"She always taught us to be the very best we could and that's what she's doing. We couldn't ask anymore."
Mrs King, 51, from Sidmouth, has represented Great Britain at six Olympic Games starting in 1992.
Her Olympic appearances have now seen her gain two silvers, her previous in Athens and a bronze medal in Beijing.
Mrs King has won six team golds at World Equestrian Games and European Championships.
She has been British Champion four times, more than anyone to date, but had entered the 2012 Olympics hoping to win the gold that has so far eluded her.
Broken neck
She got her first taste of Olympic action in Barcelona back in 1992 and has been a fixture in the British side ever since.
Her first pony was an elderly pet from the local vicar's children but this early taste of success is said to have given her an iron will to succeed.
According to her autobiography, to support herself in the early days she had "a variety of unglamorous jobs".
These included butcher delivery rounds and cleaning out toilets in the local campsite.
She first competed at Badminton in 1985, had her first win there in 1992 and her second in 2000.
In 2001, whilst exercising horses at her home, Mrs King had a fall which broke her neck.
Less than a year later she was back at the top of the sport recording top ten placings at major international events.