Derriford Hospital chairman denies leadership crisis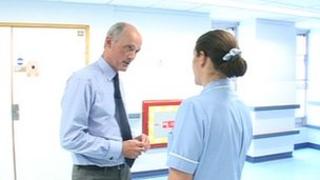 Plymouth's Derriford Hospital is not facing a leadership crisis or a vacuum, its new chairman - who has no hospital management experience - has said.
Former chief constable of Lincolnshire Police Richard Crompton had started in his new role after being given the job by the Appointments Commission.
Three members of the hospital's board resigned over his appointment, citing his lack of experience.
Mr Crompton said he would listen to staff and deal with any issues.
'Baffling' appointment
The ex policeman takes over the role from the Plymouth Hospitals NHS Trust's acting chairman Peter Burroughs, who had 40 years' experience in the health service.
Mr Burroughs resigned in May after not being given the job full time, along with directors David Pond and Lee Paschalides.
After she left, Ms Paschalides said that Mr Crompton's appointment would cause a leadership crisis.
She said: "It's an extremely complex organisation, so to have someone coming into it without a reasonable amount of knowledge to help support the executive team is quite baffling."
Prior to arriving in Plymouth, Mr Crompton said his experience was "having run a large organisation providing an essential public service".
Taking up his post, Mr Crompton said: "All this talk of a leadership vacuum and crisis, I do think that is unnecessarily alarmist.
"Yes, there are some issues to deal with, and that's exactly what we're doing."
Issues the trust currently faces include needing to make savings of £57m over two years and its work to become a foundation trust.
Mr Crompton added that he was "not the ex-chief constable who has come in waving a big stick".
He said: "That is not my style.
"My style is to be open, to consult, to be communicative and to listen to people.
"That's what I did as a chief constable for the last decade, and that's exactly how I intend to carry on in my role as chairman."
The Appointments Commission said the strongest candidate was given the role.
The hospital takes patients from Plymouth and the surrounding area, as well as parts of Cornwall.