Two drugs arrests at Devon's Channings Wood Prison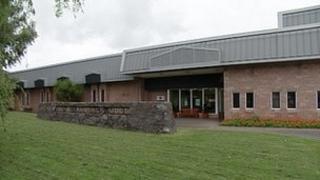 Two women have been arrested by police attempting to stop the smuggling of drugs into a Devon prison.
The arrests were part of an operation at HMP Channings Wood at Newton Abbot, Devon and Cornwall Police said.
A 22-year-old woman from Taunton, Somerset, was arrested on suspicion of possessing the Class B drug Mephedrone. She was released on bail, police said.
A 58-year-old woman from Cardiff, Wales, was issued a warning after being arrested for cannabis possession.
The women were also refused their visits to the prison by staff.
Police from a vehicle number plate recognition team, the Tactical Police Team and special constables, plus drugs dogs, checked every vehicle arriving at the prison during the operation.
A 27-year-old man from Cardiff, Wales, who was wanted on warrant was also arrested and detained, police said.
The Category C prison, which was built on the site of a Ministry of Defence opened in 1974 and can hold a population of about 730 inmates.