Tracy Kuczmyjiw jailed for stabbing ex-boyfriend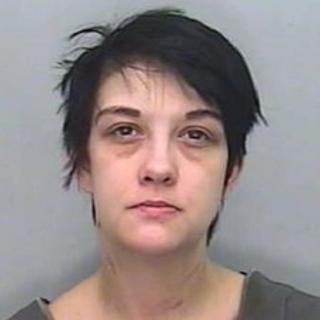 A mother-of-three has been jailed for 10 years for stabbing her ex-boyfriend in the back with a kitchen knife.
Tracy Kuczmyjiw, 28, of Alexandra Road, Torquay, was found guilty of wounding Jonathan Bunce with intent.
Kuczmyjiw had denied the charges but was found guilty at a trial at Exeter Crown Court in May.
Following the stabbing Mr Bunce had part of his lung removed and spent time in intensive care because blood kept filling his chest cavity.
The court heard that Kuczmyjiw attacked Mr Bunce after he went to retrieve his belongings from her home following a short relationship between them.
Personality disorder
Judge Erik Salomonsen said: "There was an altercation during which you threw a deep fat fryer at him and the incident culminated in you taking a knife from the block in the kitchen and stabbing him.
"The wound caused severe and life-threatening injuries. He could have died as a result of that one significant blow on your part."
The judge said a psychiatric report showed Kuczmyjiw suffered from a borderline personality disorder and was a risk when using alcohol during a relationship.
He added that on the night of the stabbing she had drunk nine pints of lager.
During the trial Mr Bunce said he did not realise how seriously injured he was until he fled the flat and collapsed in the street outside.
Police who went to arrest Kuczmyjiw found her sobbing on the kitchen floor, repeatedly saying "he doesn't love me".
Kuczmyjiw had claimed she stabbed Mr Bunce by accident during a struggle in which she was trying to defend herself.