Olympic Nowhereisland's visit to Exmouth cancelled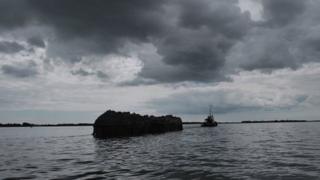 A visit by an "island" to an east Devon town has been cancelled because of weather concerns in Dorset, project managers have said.
Nowhereisland, part of a £500,000 Cultural Olympiad project, is a sculpture made from material salvaged from a glacier in northern Norway.
It was due to arrive in Exmouth on Saturday for two days as part of town's Earth Festival.
Organisers said strong winds meant it could not leave Portland until Sunday.
Island embassy
Project producers said coastguards would not let a barge carrying the island leave Portland until winds died down.
After leaving, the island would pass by Exmouth - but not stop as scheduled - and would head to its next stop in Torbay, where it was due to arrive on Monday, they said.
However, an "embassy" for the island would still be in Exmouth for the festival, project producer Claire Doherty said.
Ms Doherty added that "people will still be able to see it off the coast".
The project, which was started in September 2011, features about six tonnes of rock on a barge which had been under the retreating glacier in the Svalbard peninsula.
The self-declared utopian nation was towed 2,000 miles (3,200km) to Britain from the Arctic and its travelling "embassy" has been signing up "citizens" on its tour.
More than 16,000 people have signed up as "citizens" via the Nowhere island website, although no-one was allowed on it, organisers said.
The project has attracted criticism.
Devon MP Geoffrey Cox previously called the project an "astonishing folly".
The Conservative Torridge and West Devon MP said he believed the £500,000 could have been better spent elsewhere.
The Arts Council insisted the Cultural Olympiad was one of the reasons London's bid to host the 2012 Games had been successful.
Nowhereisland was due to sail on to other destinations around the South West of England during the rest of the summer, covering about 500 nautical miles (435 miles/700km), Ms Doherty said.