Flooding hits Kingsteignton and Dawlish in Devon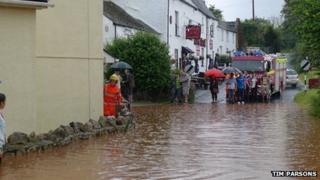 Fire crews and police have been dealing with flooding in south Devon.
In Kingsteignton, water was reported coming into the ground floor of homes near the town's Sandygate Inn, with firefighters helping to evacuate homes.
In Dawlish, the Brook river - which runs through the town centre - burst its banks when water levels rose by about 2ft (60cm).
Devon Fire Service said it had also been alerted to incidents in Chudleigh.
'Just astonished'
Devon Fire Service said it could not confirm how many properties were affected.
David Lee was one of two householders in Sandygate Mews in Kingsteignton whose home was flooded.
He said he had been flooded in 2008, but hoped it would not happen again.
He said: "I'm just astonished. When it happens once, you just deal with it. But if it happens a second time, you wonder what's going on.
"I've got insurance but, because I've claimed before, my excess is now £4,000 or £5,000. I'll be massively out of pocket."
The 32-year-old teacher said all of the ground floor of his house would have to be ripped out and replaced.
He said: "In terms of belongings, friends and I were able to get in and move things upstairs, but stuff like cookers and fridge-freezers are all ruined."
Yellow alert
In Dawlish, the A379 at Teignmouth Hill was closed between Marine Parade and the Strand. Police were called in to direct traffic.
The town's Station Road was also underwater, BBC Devon Travel said.
The Met Office has a yellow alert warning for rain on Sunday.
The alert meant there was a risk of surface water flooding and possible disruption to transport, the forecaster said.
It covered the whole South West of England and would stay in place until about 22:00 BST, it added.